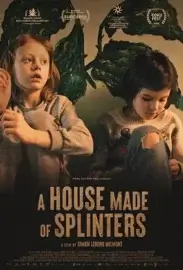 Please copy this link to share it:
https://www.filmplatform.net/product/a-house-made-of-splinters
Streaming Access
Unfortunately, this film is not available for streaming yet.
As soon as it will be available for streaming, it will appear in your university streaming page.
A House Made of Splinters
In this war-worn and impoverished corner of Eastern Ukraine where addiction casts a long shadow, there sits a safe haven for children temporarily removed from their parents.
A House Made of Splinters follows 3 kids awaiting their fate— will they go back or find a new home?— as a group of dedicated social workers create small moments of joy and relief from childhood's all but lost.
The film offers a unique look into how the long-term consequences of war, on a society already under strain, impacts the most vulnerable, with a poignant and deeply intimate portrait of a remarkable way station filled with care, support, and trust for a group of kids who are in desperate need of more.
This Week's Featured Films