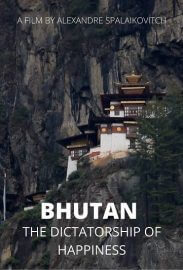 Please copy this link to share it:
https://www.filmplatform.net/product/bhutan-the-dictatorship-of-happiness
Streaming Access
Unfortunately, this film is not available for streaming yet.
As soon as it will be available for streaming, it will appear in your university streaming page.
Bhutan: The Dictatorship of Happiness
Hidden away in the Himalayan foothills, Bhutan is a country reputed for its exquisite natural beauty and the importance its people place on individual happiness. To many, the small nation seems like a model for the rest of the world.
But behind this idyllic façade there lies a more sinister reality. Buddhism is the only religion tolerated by the Wangchuck dynasty who have ruled the country for the last century. The flocks of millionaires and Hollywood stars who arrive in Bhutan to work on their karma can only be accommodated thanks to the toil of terribly paid workers. But a youthful counterculture movement has emerged since the country's exposure to the internet.
This Week's Featured Films