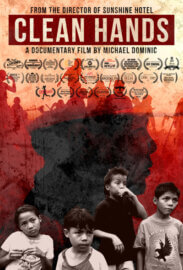 Please copy this link to share it:
https://www.filmplatform.net/product/clean-hands
Streaming Access
Unfortunately, this film is not available for streaming yet.
As soon as it will be available for streaming, it will appear in your university streaming page.
The four Lopez children live with their parents on Central America's largest garbage dump – the only world they have ever known. When a philanthropist hears of their plight and builds them a small house in the country, the kids go to school for the first time and the family escapes the desolation of the dump.
But what should be an amazing opportunity turns into a much more complex tale. Relationships that on the dump seemed rock-solid, fray and tear. When things take an unexpected turn, their very future as a family appears in jeopardy.
Shot over the course of seven years, 'Clean Hands' is a multi award-winning account of family, extreme poverty and the hope and innocence of children.
This Week's Featured Films