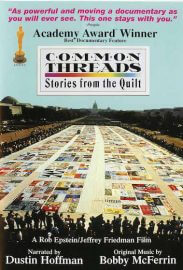 Please copy this link to share it:
https://www.filmplatform.net/product/common-threads
Streaming Access
Unfortunately, this film is not available for streaming yet.
As soon as it will be available for streaming, it will appear in your university streaming page.
Common Threads
In the late 1970's, a mysterious new disease began infecting – and killing – gay men. Common Threads tells the powerful story of the first decade of the AIDS epidemic, as told through the lives of five very diverse individuals who shared a common fate.
Using the monumental NAMES Project AIDS Memorial Quilt as its central metaphor, the film weaves together personal memories and television news stories to expose the U.S. government's failure to respond to the growing epidemic, and the vibrant protest movement that was born as a result.
This Week's Featured Films