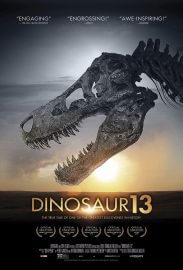 Please copy this link to share it:
https://www.filmplatform.net/product/dinosaur-13
Streaming Access
Unfortunately, this film is not available for streaming yet.
As soon as it will be available for streaming, it will appear in your university streaming page.
The U.S. government, world-class museums, Native American tribes, and competing paleontologists became the Goliath to Larson's David as he and his team fought to keep their dinosaur and wrestled with intimidation tactics that threatened their freedom as well. Dinosaur 13 chronicles an unprecedented saga in American history and details the fierce battle to possess a 65-million-year-old treasure. With consummate skill, filmmaker Todd Miller excavates layer after layer, exposing human emotion in a dramatic tale that is as complex as it is fascinating.
This Week's Featured Films