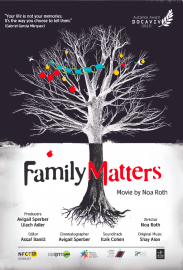 Please copy this link to share it:
https://www.filmplatform.net/product/family-matters-2
Streaming Access
Unfortunately, this film is not available for streaming yet.
As soon as it will be available for streaming, it will appear in your university streaming page.
The film tells the story of how, 30 years ago, the divorce of a woman who went on to become a renowned author, and her husband, an esteemed rabbi, shook the religious city of Bnai Barak and affected the lives of their seven children. It follows a family divided between the two conflicting worlds of the Ultra-Orthodox and the secular. One of the couple's daughters embarks on a journey among the ghosts of her childhood to try to reunite her fractured family and finally start a family of her own.
This Week's Featured Films