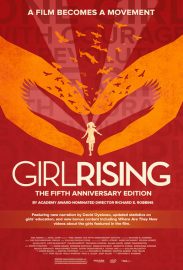 Please copy this link to share it:
https://www.filmplatform.net/product/girl-rising-5th-anniversary-edition
Streaming Access
Unfortunately, this film is not available for streaming yet.
As soon as it will be available for streaming, it will appear in your university streaming page.
Girl Rising 5th Anniversary Edition
Girl Rising has exploded into a global movement and social media phenomenon. Since the original film came out, the film has unlocked resources for girls' education and has reached millions of people. The Fifth Anniversary Edition commemorates the stories of nine incredible girls whose lives have been affected by the power of education. The updated film features new research on girl's education, video updates on the girls, and videos from the Girl Rising movement featuring students, teachers, and community leaders taking action for girls' education. Renowned actor and girls' education advocate David Oyelowo narrates this Fifth Anniversary Edition.
This Week's Featured Films