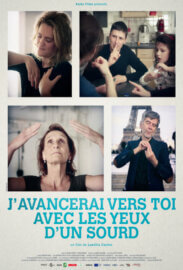 Please copy this link to share it:
https://www.filmplatform.net/product/ill-come-to-you-with-deaf-eyes
Streaming Access
Unfortunately, this film is not available for streaming yet.
As soon as it will be available for streaming, it will appear in your university streaming page.
I'll Come to You with Deaf Eyes
This film is a letter to my friend Vincent who died ten years ago. Vincent was Deaf. He introduced me to his language, his culture, his world. Through Vincent 's life, the film will examine the roots of the distress that plagues the Deaf, and also explore a rich and fascinating world, a people that struggles to preserve its Sign Language and Culture.
| | |
| --- | --- |
| Running Time: | 105 min. |
| Subject(s): | Author's POV, Disability, Health, Personal Story |
| Language(s): | French |
| Subtitles: | English |
| Director(s): | |
| Producer(s): | Olivier Charvet, Sophie Germain |
| Cinematographer: | Gertrude Baillot, Laetita Carton, Pascale Marin |
| Editor(s): | Rodolphe Molla |
| Production Company: | Kaléo Films |
This Week's Featured Films