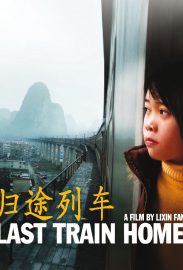 Please copy this link to share it:
https://www.filmplatform.net/product/last-train-home
Streaming Access
Unfortunately, this film is not available for streaming yet.
As soon as it will be available for streaming, it will appear in your university streaming page.
Every spring, China's cities are plunged into chaos as 130 million migrant workers journey to their home villages for the New Year in the world's largest human migration. Last Train Home takes viewers on a heart-stopping journey with the Zhangs, a couple who left infant children behind for factory jobs 16 years ago, hoping their wages would lift their children to a better life. They return to a family growing distant and a daughter longing to leave school for unskilled work. As the Zhangs navigate their new world, Last Train Home paints a rich, human portrait of China's rush to economic development.
This Week's Featured Films