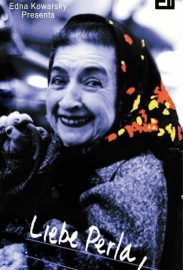 Please copy this link to share it:
https://www.filmplatform.net/product/liebe-perla
Streaming Access
Unfortunately, this film is not available for streaming yet.
As soon as it will be available for streaming, it will appear in your university streaming page.
The fascinating story of the special friendship forged between two women: Perla Ubitsch, the last remnant of a family of dwarfs that survived Dr. Mengele's cruel experiments in Auschwitz, and researcher Hannelore Witkovsky a German Protestant born after the war. Filmed in both Germany and Israel, we accompany Hannelore on her quest to find a lost film made by Dr. Mengele featuring Perla and her siblings.
Director's statement

Keeping the film's theme in mind and out of respect for Perla and Hannelore, we were very careful not make a "shocking exposé" about "dwarves". I believed the director should have a minor presence – in fact, that he should be transparent – so that the heroes could tell their story in their own, special way."

Liebe Perla, Memento Mori: On Filming Disability and Holocaust Historyby

By Sara Eigen, in Women in German Yearbook, 

Vol. 22 (2006), pp. 1-20

"Its narrative and cinematographic excellence offer surprisingly novel treatment of issues that include the treatment of the disabled during the Holocaust, the function of film as documentary record, and the potential conflict between personal and political claims upon the archives of history."

Film and Risk

By Mette Hjort
Wayne State University Press (2012)

"The film Liebe Perla is an astonishing 1999 documentary by Israeli filmmaker Shahar Rozen structured around the friendship of two women linked by their size and their histories."

One of Us: Conjoined Twins and the Future of Normal

By Alice Domurat Drege
Harvard University Press (2005)

"In one of the most disturbing moments of Liebe Perla, Ovitz remembers Mengele with a sort of gratitude.'I can't say anything bad about him,' she confesses, pointing out that Mengele's interest in her family's anatomy led him to become, in a way, their protector."
Back to Film Summary
This Week's Featured Films