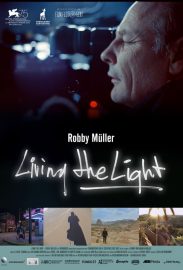 Please copy this link to share it:
https://www.filmplatform.net/product/living-the-light-robby-muller
Streaming Access
Unfortunately, this film is not available for streaming yet.
As soon as it will be available for streaming, it will appear in your university streaming page.
Living the light – Robby Müller
With his ground-breaking camerawork, exceptional sense for depth of color, innovative lighting methods, and his on-going quest for simplicity director of photography Robby Müller has inspired generations. For her extraordinary film essay director and director of photography Claire Pijman had access to Müller's personal archive: thousands of Hi8 videos, personal pictures, set photos and Polaroids that he shot throughout his career. The film intertwines these images with excerpts of his oeuvre, creating a fluid and cinematic continuum.
Director's Statement

I am fascinated by camerawork and went to film school to study it. Of course, I
had heard of Robby Müller, Wim Wenders' cameraman and I knew their films, especially the older black and white ones. Later I was very impressed and moved by the film
Paris, Texas.
For a long time Robby lived in Germany. In 1992 he moved back to the Netherlands but I had never met him.Than suddenly I got a call one day, from Robby Müller, himself. He needed an assistant.That was in 1996. I was surprised that he would call his assistant himself rather than have the production team do it. I found that quite remarkable.
He sounded like a genuinely nice, gentle man over the phone and it was with a
heavy heart that I refused. I had just decided to give my own camera career asa cinematographer a serious chance and not to assist anymore. Müller respected my decision, which was typical of him. In
the same conversation, he invited me to drop by and get acquainted.It was a pleasant encounter. It surprised me. I didn't meet a technician or a
cameraman, but someone who has made the language of image his own, someone
who always initially talks of feeling
and mood and never really about technique. Robby is interested in everything aroundhim an d incorporates that interest into his imagery.
I could finally enjoy the conversations about image and imagery that I had missed so much.
I could enjoy on a different level what really fascinated me: image.Next, Robby asked me to operate a camera during the shoot of Buena Vista Social Club in Amsterdam (1999) and took me with him as second-unit DOP.
And finally, when he no longer had the strength himself, I took over as DOP on his last film, Jermal (2009).Müller became my mentor. He has taught me a lot in an unconventional way. Not
directly but more by what he said between the lines, how he felt about things, and by obser ving how he dealt with what was happening around him. Müller looked through the camera as he looked through his own eyes. Not through a
lens, but from the perspective of his own feelings and position. It was clear that the main iss ue was how you dealt with life.
He was forever curious about what I did and how I
handled things in my documentary work. There was always an interaction with Müller: he was open to the things I – a relative rookie – had
to say. Our working relationship grew into a long-term friendship.URGENCY
Müller has been ill since 2007. He suffered from Binswanger's disease, a form of dementia. His movement and speech was slowly deteriorating. He hadn't been able to talk for several years. I made a portrait of Müller for his wife, Andrea's, birthday.
He stared at me with his open, inquisitive look. I
was struck by those eyes which had perceived things in
a certain way and which had captured so many images through the
lens. He might not be able to speak anymore, but he still has much to tell with his images.PERSONAL ARCHIVE
Robby gave me his personal archive . It is all
the material that Robby has filmed and photographed throughout his career, all video8 and DV tapes. I was also given access to the Polaroids he has
taken during his life, his photographs and his chest full of
memories, each with its own story. Seeing these images
reinforced everything he taught me. It has proved to be a veritable treasure chest andI have used it gratefully to tell his story, his love of the light. I am very honoured that I had the chance to do so.Claire Pijman
Amsterdam, January 2017
Back to Film Summary
This Week's Featured Films