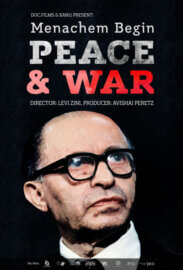 Please copy this link to share it:
https://www.filmplatform.net/product/menachem-begin-peace-and-war
Streaming Access
Unfortunately, this film is not available for streaming yet.
As soon as it will be available for streaming, it will appear in your university streaming page.
Peace & War, the dramatic story of Menachem Begin, the 6th Prime-Minister of the State of Israel who made both a historic peace and an arrogant war that changed the face of the Middle East. A Documentary feature-length based on the successful three-episode series.
This Week's Featured Films