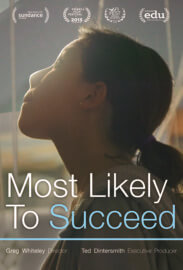 Please copy this link to share it:
https://www.filmplatform.net/product/most-likely-to-succeed
Streaming Access
Unfortunately, this film is not available for streaming yet.
As soon as it will be available for streaming, it will appear in your university streaming page.
Most Likely to Succeed examines the history of education in the United States, revealing the growing shortcomings of conventional education methods in today's innovative world. The film explores compelling new approaches at a ground-breaking school in San Diego that aims to revolutionize teaching as we know it, inspiring school communities to reimagine what students and teachers are capable of doing. As we follow students, parents and teachers through a truly unorthodox school experience, the audience is forced to consider what sort of educational environment is most likely to succeed in the 21st century.
This Week's Featured Films