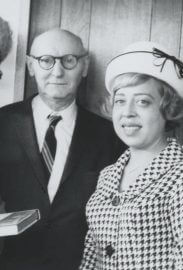 Please copy this link to share it:
https://www.filmplatform.net/product/muses-bashevis-singer
Streaming Access
Unfortunately, this film is not available for streaming yet.
As soon as it will be available for streaming, it will appear in your university streaming page.
The Muses of Bashevis Singer
Isaac Bashevis Singer, the famous Yiddish writer and Nobel Prize winner wrote with a 'harem' of dozens of translators behind him. Beyond simple translators, these women were a vital source of his creativity. The inspiration he drew from them came in many forms, often mixing romance with professional aspirations. Today nine remain to tell his story. Intimate, poignant interviews and exclusive archival footage combine to form the unknown story of an author who charmed and enchanted his audiences, just as he charmed and enchanted his translators. A film about the art of translation and one of the great figures of twentieth century literature.
This Week's Featured Films