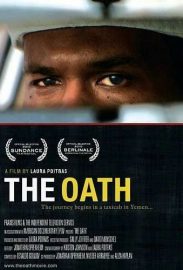 Please copy this link to share it:
https://www.filmplatform.net/product/oath
Streaming Access
Unfortunately, this film is not available for streaming yet.
As soon as it will be available for streaming, it will appear in your university streaming page.
Filmed in Yemen and Guantánamo Bay, Cuba, The Oath interweaves the stories of Abu Jandal, Osama bin Laden's former bodyguard, and Salim Hamdan, a prisoner at Guantánamo facing war crimes charges. Directed by Oscar winning Laura Poitras, The Oath unfolds via a narrative rife with plot reversals and betrayals that ultimately leads to Osama bin Laden, 9/11, Guantánamo and the U.S. Supreme Court.
This Week's Featured Films