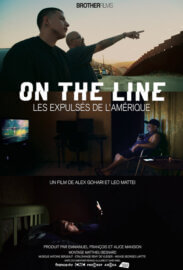 Please copy this link to share it:
https://www.filmplatform.net/product/on-the-line
Streaming Access
Unfortunately, this film is not available for streaming yet.
As soon as it will be available for streaming, it will appear in your university streaming page.
Every year, over 100,000 Mexicans living in the USA are deported. Many have grown up in America. Some can't even speak Spanish. In a matter of days they are torn away from their loved ones and escorted across the border. Unable to return home or appeal their deportation.
The border town of Tijuana has become an airlock between two worlds, where the broken lives of migrants unfold. For many of these deportees, the only work available is in relocated US call centres. They spend their days answering calls from consumers, pretending to be working from America, and their evenings looking at the lights from across the border, trying to maintain some form of contact with their families left behind.
This Week's Featured Films