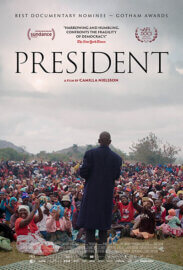 Please copy this link to share it:
https://www.filmplatform.net/product/president
Streaming Access
Unfortunately, this film is not available for streaming yet.
As soon as it will be available for streaming, it will appear in your university streaming page.
When Robert Mugabe was removed from power, Zimbabwe military leaders promised they would not seize control for themselves but would ensure democracy in a national election. Against a backdrop of economic crisis, food shortages, and political violence, the stakes could not be higher. Working to defeat the ruling party, which has controlled Zimbabwe since independence, is the young and charismatic Nelson Chamisa, who draws comparisons to a young Nelson Mandela in expressing the country's utmost desire to be "led" and not "ruled". After decades of a corrupt group clinging to power using any tool available—legal or not—can a free, fair, and transparent election be truly possible?
This Week's Featured Films