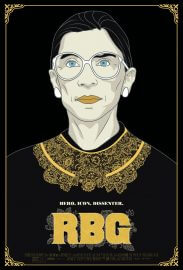 Please copy this link to share it:
https://www.filmplatform.net/product/rbg
Streaming Access
Unfortunately, this film is not available for streaming yet.
As soon as it will be available for streaming, it will appear in your university streaming page.
At the age of 85, U.S. Supreme Court Justice Ruth Bader Ginsburg has developed a breathtaking legal legacy while becoming an unexpected pop culture icon. But without a definitive Ginsburg biography, the unique personal journey of this diminutive, quiet warrior's rise to the nation's highest court has been largely unknown, even to some of her biggest fans – until now. RBG is a revelatory documentary exploring Ginsburg's exceptional life and career from Betsy West and Julie Cohen.
This Week's Featured Films