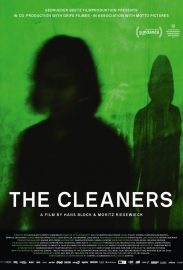 Please copy this link to share it:
https://www.filmplatform.net/product/the-cleaners
Streaming Access
Unfortunately, this film is not available for streaming yet.
As soon as it will be available for streaming, it will appear in your university streaming page.
The Cleaners
Enter a hidden third world shadow industry of digital cleaning, where the Internet rids itself of what it doesn't like: violence, pornography and political content. Here we meet five "digital scavengers" among thousands of people outsourced from Silicon Valley whose job is to delete "inappropriate" content off of the net. In a parallel struggle, we meet people around the globe whose lives are dramatically affected by online censorship. A typical "cleaner" must observe and rate thousands of often deeply disturbing images and videos every day, leading to lasting psychological impacts.
This Week's Featured Films