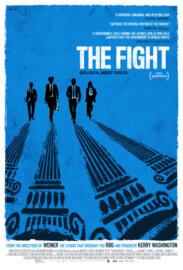 Please copy this link to share it:
https://www.filmplatform.net/product/the-fight
Streaming Access
Unfortunately, this film is not available for streaming yet.
As soon as it will be available for streaming, it will appear in your university streaming page.
The Fight
THE FIGHT is an inspiring, emotional insider look at how these important battles are fought and the legal gladiators on the front lines fighting them. Directors Elyse Steinberg, Josh Kriegman, and Eli Despres capture the rollercoaster ride of the thrill and defeat in these deeply human battles. When a mother is separated from her child, a soldier is threatened to lose his career, a young woman's right to choose is imperiled at the pleasure of a government official, and the ability to exercise our basic right to vote is threatened, the consequences can be devastating to us and to future generations. THE FIGHT celebrates the unsung heroes who fiercely work to protect our freedoms.
This Week's Featured Films