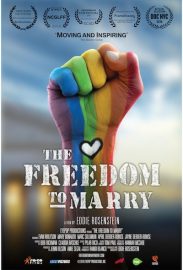 Please copy this link to share it:
https://www.filmplatform.net/product/the-freedom-to-marry
Streaming Access
Unfortunately, this film is not available for streaming yet.
As soon as it will be available for streaming, it will appear in your university streaming page.
THE FREEDOM TO MARRY is the untold story of the most successful – and perhaps most inspiring – civil rights movement of our time. This is a riveting ride alongside Evan Wolfson, the man known as architect of the movement, and his team as they wage a decades-long battle all the way to the United States Supreme Court, providing fresh perspective on the movement's history along the way. This is both a primer for social change and a behind-the-scenes look at how regular people can actually make a difference.
This Week's Featured Films