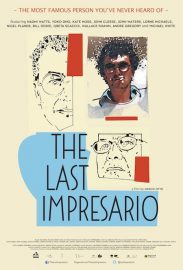 Please copy this link to share it:
https://www.filmplatform.net/product/the-last-impresario
Streaming Access
Unfortunately, this film is not available for streaming yet.
As soon as it will be available for streaming, it will appear in your university streaming page.
Michael White might just be the most famous person you've never heard of. The London theatre and film impresario produced over 300 shows and movies over the last 50 years. Bringing to the stage the risqué productions of Oh! Calcutta!, The Rocky Horror Show and to the screen Monty Python's The Holy Grail, as well as introducing Merce Cunningham, Pina Bausch and Yoko Ono to London audiences, he irrevocably shaped the cultural scene of 1970s London. Fondly known as 'Chalky' by his friends, he is now in his late seventies and still enjoys partying like there's no tomorrow.
This Week's Featured Films