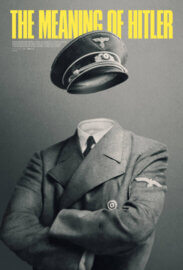 Please copy this link to share it:
https://www.filmplatform.net/product/the-meaning-of-hitler
Streaming Access
Unfortunately, this film is not available for streaming yet.
As soon as it will be available for streaming, it will appear in your university streaming page.
The Meaning of Hitler
THE MEANING OF HITLER is a provocative interrogation of our culture's fascination with Hitler and Nazism set against the backdrop of the current rise of white supremacy, the normalization of antisemitism and the weaponization of history itself. Shot in nine countries, the film traces Hitler's movements, his rise to power and the scenes of his crimes as historians and writers weigh in on the lasting impact of his virulent ideology.
This Week's Featured Films