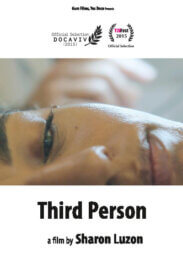 Please copy this link to share it:
https://www.filmplatform.net/product/third-person
Streaming Access
Unfortunately, this film is not available for streaming yet.
As soon as it will be available for streaming, it will appear in your university streaming page.
Suzan was born with both male and female sex organs. When she was 5 months old, her parents decided she would be a female. She learnt about it only at the age of 35. Ofer was born intersexual, too, but his parents decided against surgery and accepted him the way he was born. Is there a right to be an intersex? Most people don't think so. Suzan and Ofer are on a mission to change it.
This Week's Featured Films