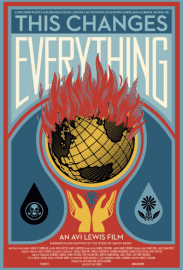 Please copy this link to share it:
https://www.filmplatform.net/product/this-changes-everything
Streaming Access
Unfortunately, this film is not available for streaming yet.
As soon as it will be available for streaming, it will appear in your university streaming page.
Filmed in nine countries and five continents over four years, THIS CHANGES EVERYTHING is an epic attempt to re-imagine the vast challenge of climate change.
Directed by Avi Lewis, and inspired by Naomi Klein's international non-fiction bestseller of the same name, the film presents seven powerful portraits of communities on the front lines, from Montana's Powder River Basin to the Alberta Tar Sands, from the coast of South India to Beijing and beyond.
Interwoven with these stories of struggle is Klein's narration, connecting the carbon in the air with the economic system that put it there.
This Week's Featured Films