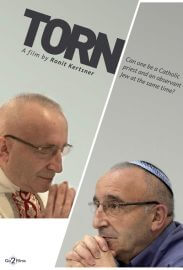 Please copy this link to share it:
https://www.filmplatform.net/product/torn
Streaming Access
Unfortunately, this film is not available for streaming yet.
As soon as it will be available for streaming, it will appear in your university streaming page.
Can one be a Catholic priest and an Observant Jew at the same time? 12 years after he was ordained as a Polish Catholic priest, Romuald Waszkinel discovers that he was born to Jewish parents, and that his name was Jacob Weksler. The film follows his amazing journey from conducting mass in a church in Poland to life as an observant Jew in a religious kibbutz in Israel. Romuald is torn between two identities, between being Romuald Waszkinel or Jacob Weksler. He is unable to renounce either, and therefore is rejected by both religions and the state of Israel. He is required to choose.
'TORN' BETWEEN TWO WORLDS

Jewish-born Polish priest dreams of Aliyah

http://www.go2films.com/English-Articles/jewish-born-polish-priest-dreams-of-aliyah

For a Priest and for Poland, a Tangled Identity

http://www.go2films.com/English-Articles/for-a-priest-and-for-poland-a-tangled-identity

A Priest — and a Jewish Holocaust Survivor

http://www.go2films.com/English-Articles/a-priest-and-a-jewish-holocaust-survivor

Torn

http://israelfilm.blogspot.co.il/search/label/–Torn
Back to Film Summary
This Week's Featured Films