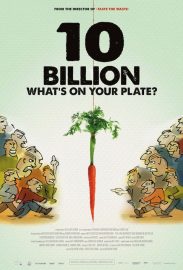 Please copy this link to share it:
https://www.filmplatform.net/product/10-billion-whats-plate
Streaming Access
Unfortunately, this film is not available for streaming yet.
As soon as it will be available for streaming, it will appear in your university streaming page.
10 Billion – What's On Your Plate?
By 2050, the world population will grow to ten billion people. In the midst of the heated debate about food security comes this broad and analytic look into the enormous spectrum of global food production and distribution – from artificial meat, insects, industrial farming to trendy self-cultivation. Director, best-selling author and Food Fighter Valentin Thurn (box office hit Taste The Waste) seeks for worldwide solutions and gives room for innovation and inspiring visions for our future.
About the Director

Director of documentaries for German and international TV channels and cinema. Various national and international Awards such as the German Environmental Media Award, Atlantis Best Film, Eating City Special Award and Econsense Journalist Award. "Taste The Waste" has attracted more than 130.000 viewers in Germany alone and was one of the most successful documentaries in the cinema season 2011 / 2012. It has been awarded various times, together with the sequel "Food Savers" and the book "Die Essensvernichter".

The documentary about Zacarias Moussaoui ("I Am Al Qaeda") has been nominated for the German TV Award 2006. Other films include: "Not with my daughter!" about Female Genital Circumcision in Europe. "Killer Germs" about bacteria resistant to antibiotics spreading in hospitals. "Where Have All The Children Gone?" Why is Europe's population shrinking? "The Lord Of The Wolves" about a biologist investigating the hidden life of a wolf pack in Romania. "My Father Wants To Kill Me" about so-called honor killings in migrant families in Germany and France. Co-Founder of the International Federation of Environmental Journalists (IFEJ). Based in Cologne, Germany.
Back to Film Summary
This Week's Featured Films