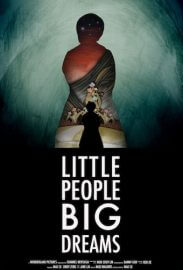 Please copy this link to share it:
https://www.filmplatform.net/product/little-people-big-dreams
Streaming Access
Unfortunately, this film is not available for streaming yet.
As soon as it will be available for streaming, it will appear in your university streaming page.
A millionaire wanted to create a utopia for little people in China. A land where they could live and work among themselves, away from the discrimination of mainstream society. And so the 'Dwarves Empire' was born. This is an unlikely theme park where dozens of little people live and perform for anyone who pays a US$16 entrance fee.
This observational documentary chronicles the journeys of a few employees at a pivotal point in their lives. Connected by a will to pursue their dreams, these little people take their chances in an uncertain world. 'Little People Big Dreams' explores the cost of prejudice and the shades of modern-day morality.
DIRECTOR'S STATEMENT

When I first read about the theme park online, I was immediately intrigued by the existence of such a bizarre attraction in this day and age. I have always been interested in microcosms of society. And communities that are discriminated or gravely under-represented in the media.
'Little People Big Dreams' checks all boxes. Through this film, I've had the privilege of learning about the lives of little people in the world's most populous nation. The personal life stories featured in the film are both heartbreaking and inspiring. Their pains, triumphs and dreams are a lot more similar to those of average-sized people than largely perceived. This is a universal tale about the pursuit of happiness.

Over the course of making this film, I struggled with how I feel about the park. And I've come to realise that many a time, morality comes in different shades of grey.

ABOUT THE DIRECTOR

Mak CK's debut documentary feature film, 'The World's Most Fashionable Prison', about a fashion rehabilitation programme in the Philippines' largest maximum security prison is an official selection at over 15 film festivals including the prestigious Hot Docs Canadian International Documentary Festival 2012. It received the 'Audience Award' for Documentary Film at the Lighthouse International Film Festival and the 'Gold Kahuna Award' for Documentary Film at the Honolulu Film Awards.

With over a decade of experience working in television, Mak is a multi-award-winning director-producer with a portfolio that includes projects for National Geographic Channel Asia, A+E Networks Asia, Discovery Networks Asia, Star TV, MTV Asia, Disney Channel Asia and Channel NewsAsia. Having filmed in 22 countries worldwide, he has produced and directed over 30 factual TV series and documentaries. His multiple wins at the New York Film and TV Festival include a Best Direction Silver World Medal for 'China Close Up' in 2014.
Back to Film Summary
This Week's Featured Films