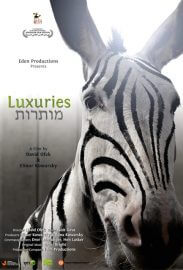 Please copy this link to share it:
https://www.filmplatform.net/product/luxuries
Streaming Access
Unfortunately, this film is not available for streaming yet.
As soon as it will be available for streaming, it will appear in your university streaming page.
An elusive "coordinator," vague formulas that calculate "survival capacity", warehouses cramped with rotting goods, and donkeys dressed up as zebras – all take part in the mosaic that sketches a surreal reality in which evil and stupidity merge.
Director David Ofek takes the viewer on a journey to the absurd front of the Israeli "blockade on Gaza", revealing the consequences of a policy that limits the flow of goods into Gaza.
This Week's Featured Films