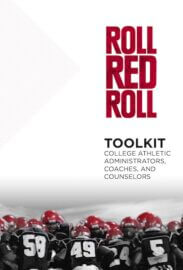 Please copy this link to share it:
https://www.filmplatform.net/product/roll-red-roll-toolkit
Streaming Access
Unfortunately, this film is not available for streaming yet.
As soon as it will be available for streaming, it will appear in your university streaming page.
Developed by the nationally recognized Roll Red Roll impact campaign and in collaboration with a coalition of experts, this toolkit is a resource that prepares coaches, administrators, and counselors to discuss sexual assault prevention simply and clearly with student athletes, and teach them how they can play an active role in rape prevention.
The toolkit includes 4 different Thematic Tracks (see below), covering the major themes raised in the film; an Overall Discussion Guide (see below), that lists all of these themes, the scenes that relate to them and suggestions for discussion; and the 14 associated Video Clips referenced in the guides.
This Week's Featured Films