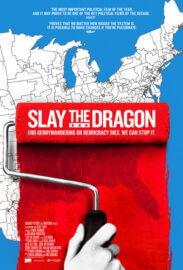 Please copy this link to share it:
https://www.filmplatform.net/product/slay-the-dragon
Streaming Access
Unfortunately, this film is not available for streaming yet.
As soon as it will be available for streaming, it will appear in your university streaming page.
Slay the Dragon
After the 2008 election, a secretive, well-funded partisan initiative poured money into state legislative races in key swing states to gain control of their redrawing electoral maps and redistricting processes. It used high-tech analytics to dramatically skew voting maps based on demographic data, serving the party in power. The result was one of the greatest electoral manipulations in American history, posing a fundamental threat to democracy and exacerbating the already polarized atmosphere in Congress and state houses across the country. Following groups of outraged citizens, the film sees them battle party operatives and an entrenched political establishment to fix a broken system.
This Week's Featured Films