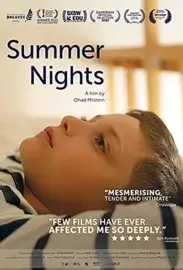 Please copy this link to share it:
https://www.filmplatform.net/product/summer-nights
Streaming Access
Unfortunately, this film is not available for streaming yet.
As soon as it will be available for streaming, it will appear in your university streaming page.
How does the world look through the eyes of a 6 years old child? The movie presents a window into Alva's fears, his desires, his way of thinking. A journey into the subconscious of an innocent and ingenuous child, while he drifts into the depths of his own mind.
This Week's Featured Films