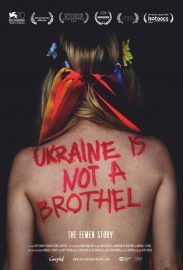 Please copy this link to share it:
https://www.filmplatform.net/product/ukraine-brothel
Streaming Access
Unfortunately, this film is not available for streaming yet.
As soon as it will be available for streaming, it will appear in your university streaming page.
Ukraine's topless feminist sensation, Femen, has stirred up a press frenzy across Europe. Femen bare their breasts to protest the international perception of Ukrainian women as either brides for sale or commodities of sex tourism. With a first-time intimate glimpse into the world's most provocative feminist organization, we see how Femen fight their naked war against patriarchy. However, before they take the world by storm, these bold and beautiful women must first confront the perverse and contradictory forces that power their own "titillating" organisation.
This Week's Featured Films