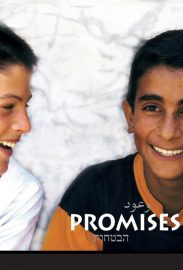 Please copy this link to share it:
https://www.filmplatform.net/product/promises
Streaming Access
Unfortunately, this film is not available for streaming yet.
As soon as it will be available for streaming, it will appear in your university streaming page.
Promises
A beautiful and deeply moving portrait of seven Palestinian and Israeli children. Emmy award-winning and Academy award-nominated, PROMISES follows the journey of a filmmaker who meets these children in and around Jerusalem, from a Palestinian refugee camp to an Israeli settlement in the West Bank. Although they live only 20 minutes apart, these children exist in completely separate worlds, divided by physical, historical and emotional boundaries. PROMISES explores the nature of these boundaries and tells the story of a few children who dared to cross the lines to meet their neighbors.
This Week's Featured Films